My Husband's Chili!
I am a lucky woman! Ok, so my husband doesn't really know how to follow a recipe. Whatevs. At least in the process of him trying, he creates something amazing!
I sent him to my blog to make one of the stew recipes I have catalogued. Easy peasy, right? Turns out, we were missing a few ingredients so he had to improvise. Plus he may have added or skipped a step here or there :)
And I'm so glad he did! PLUS he kept track of his steps because he knew I'd quiz him on the ingredients before I took one spoonful.
See, how lucky am I?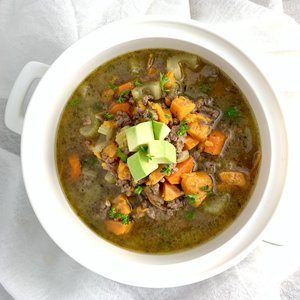 My Husband's Chili
prep time: 10 M
cook time: 20 M
total time: 30 M
Man-made, and fully AIP!
ingredients:
1/2 tbsp coconut oil
1/2 white onion, diced
3 garlic cloves, minced
1 lb ground beef
1 1/2 tsp sea salt (more to taste if needed)
3 tsp garlic powder
3 tsp onion powder
2 tsp dried oregano
2 tsp dried parsley
1/2 tsp mace
2 bay leaves
2 carrots, chopped
2 celery stalks, chopped
1 large sweet potato, cubed
4 cups beef bone broth
instructions:
How to cook My Husband's Chili
Set your instant pot to Sauté. Add the onions and cook until just-tender.
Add the minced garlic and cook until fragrant.
Add the ground beef and cook until browned and the fat has rendered.
Add remaining ingredients, close the instant pot, and set to Manual for 11 mnts.
Quick release the pressure at the end of cycle. Add more seasonings if desired.
Garnish with your favorite toppings: avocado, onion, fresh parsley or a bit of leafy greens!