AIP Hot Toddy
I don't know if it's just this neck of the woods, but allergies seem to be running crazy! Like, every other person I talk to is dealing with sneezing fits and scratchy throats. Including me.
Enter the Hot Toddy! Because a sore throats deserves a little somethin' to soothe it, and you deserve a little somethin' in the process.
Now, the traditional "somethin'" was whiskey, which isn't the case here. That ain't my jam. Plus, it ain't AIP or good for the gut. So we've swapped it with some fresh, unsweetened apple juice. I know…apple juice instead of whiskey? I hear you. Different flavor profile and all that. But just go with me, because it tastes fantastic!
Here's the how-to for the Toddy….I hope you curl up with a warm cup and enjoy!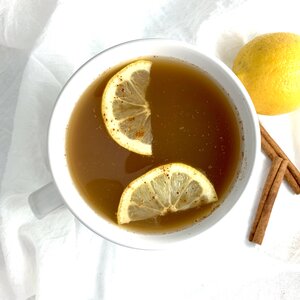 AIP Hot Toddy
prep time:
cook time: 5 M
total time: 5 M
An AIP spin on the classic warm cocktail!
ingredients:
1/2 cup water
1/2 cup fresh unsweetened apple juice
1-2 tsp lemon juice (as much as you can handle!)
1 tsp cinnamon
1/4 tsp ground clove
1/8 tsp grated or ground ginger
1-2 tsp honey, to taste
instructions:
How to cook AIP Hot Toddy
Combine all ingredients in a pot (starting with minimal amount of lemon and honey).
Bring to high heat. Upon serving, pour through a fine mesh strainer if desired to remove any sediment from the clove and cinnamon.
Garnish with lemon wedges.