Swiss Chard & Apple Breakfast Hash
Who doesn't love a one-dish meal? Not to mention, one that goes a long way AND is nutrient-packed? I think that's possibly why I love the humble breakfast hash so much; there's nearly endless varieties you can try, they come together relatively quickly, and there's usually enough to feed several people or make multiple meals out of!
If you're on AIP and have reintroduced eggs, serve one over the top of this hash for a little extra goodness!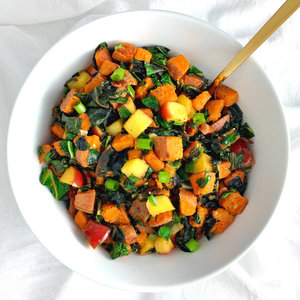 Swiss Chard & Apple Breakfast Hash
prep time: 15 M
cook time: 25 M
total time: 40 M
ingredients:
5 strips uncured bacon, cut into 1" squares
1 large sweet potato, cubed
1 red apple, diced
4 cups swiss chard, leaves and stems chopped and separated
3 green onions, sliced
1 1/2 tsp sea salt, divided
2 tsp garlic powder, divided
1 tsp onion powder
1 tsp dried oregano
instructions:
How to cook Swiss Chard & Apple Breakfast Hash
In a large skillet, cook the bacon until crisp. Remove from pan, leaving the rendered fat.
Toss the sweet potato with 1 tsp sea salt, 1 tsp garlic powder, the onion powder and oregano.
Warm the rendered fat to medium-high and add the sweet potatoes. Cook until just-tender.
Add the apple and swiss chard stems. Cook until both are tender.
Add the swiss chard leaves, green onion and remaining salt and garlic powder. Cook until the chard is just-tender and vibrant green.
Fold in the cooked bacon upon serving.