Tropical Green Smoothie Bowl
I'm not gonna lie…this was pretty much dessert for breakfast. But there's a lot to💚about this smoothie bowl with it's healthy fats, heavy-duty greens, antioxidant fruits and of course Collagen Peptides!

I also tried a little fancy and added dried Hibiscus and Cornflower petals, just for fun. Both Hibiscus and Cornflower petals are thought to have anti-inflammatory properties and offer liver support, so naturally, these are a go-to for me! They're traditionally used as a tea or just as a garnish for dishes, and in this case I swiped these petals out of a flower tea blend because I love the colors. Listen, you have to make cooking an adventure!
Yield: 2 servings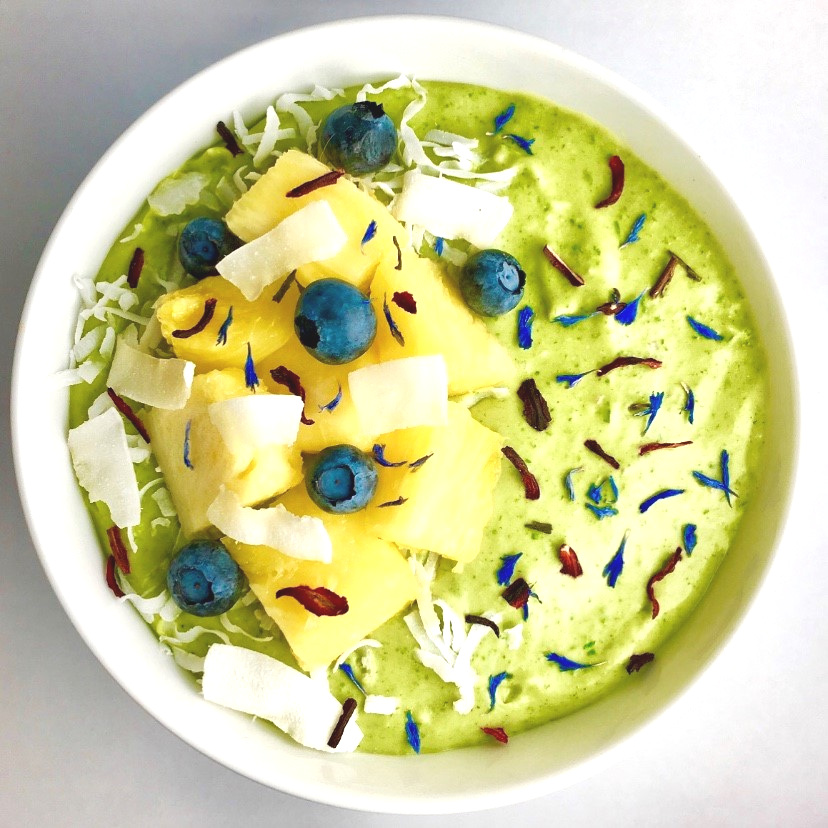 Tropical Green Smoothie Bowl
ingredients
1 can coconut cream
1 cup frozen Pineapple
1/2 small avocado
1/2-1 tbsp Raw Honey
1 1/2 cups Kale
2 Scoops Vital Proteins Collagen Peptides
1/2 cup Swiss Chard
1 small frozen Banana
instructions
Combine all ingredients in a blender and process until smooth.
Garnish with your toppings of choice; pictured are blueberries, pineapple, coconut chips, dried hibiscus and cornflower petals.